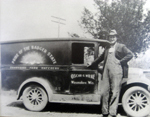 Oscar Wilke started hatching chicks on his Waunakee farm in 1912. We don't know the original hatching capacity, but he started out with Wishbone incubators and later changed to Jamesways. Ed Watzke worked for Mr. Wilke and married daughter Maebelle Wilke. The Watzke's started the Sunnyside Hatchery in Portage in the late '30s. The third Sunnyside Hatchery was opened in Reedsburg in the early '40s. Son, George Wilke, operated this unit in the early '50s. Beaver Dam was the fourth expansion, started in the '40s by Rodney Wilke. He later merged with DeKalb and was joined by his son, Mark. The next Sunnyside Hatchery was started in Watertown in the '40s. Son, Richard, operated this unit. Another son, Karl Wilke and his wife Maxine, opened a Madison hatchery when he returned from the service in the late '40s. He moved this unit to Oregon, WI in the '60s. Maxine developed and served a small market for special hatching eggs for the medical, veterinary and other research laboratories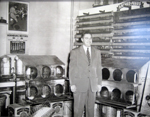 Karl and Rodney originated a "Wisco-White" strain cross in the '50s that not only was a good meat bird, but was also an excellent egg producer. It was one of the top-ranking entries in the Wisconsin Random Sample Test. It was a California Grey-Dryden S.C. White Leghorn cross.
Karl and Rodney were also active in the state poultry associations. Rodney served as Vice President (1952, 1973-74) and President (1953, 1975) of the Wisconsin Hatcheries Association. Karl served as the WHA Treasurer from 1965 to 1989, and as Vice President (1994) and President (1976). Mark Wilke is the current WHA President (1996-present).
Mark Wilke, Rod's son, is the only Wilke remaining in the hatchery business. He operates Sunnyside, Inc. at Beaver Dam. He handles egg and meat production chicks, turkey poults, goslings, ducklings, and Special Blacks. The latter meat bird was developed to meet the market demand for a dark feathered bird desired by the Hmong immigrants coming to the U.S.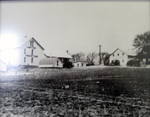 It is interesting to note that there are very few commercial chick hatcheries remaining in Wisconsin at this time. In the 1920s there were 430 hatcheries in Wisconsin. In the late '40s, Wisconsin had over 250 hatcheries. Many towns and cities had two hatcheries, with some having many more. Today, that number has dwindled to a handful of hatcheries left in Wisconsin.
-Taken with permission from "The Sunnyside Story," compiled by Arnold J. Guthrie.
Click here to read the article about Sunnyside Hatchery in the March 2, 2005 edition of "The Country Today."
A recent article about Sunnyside Hatchery in the June 15, 2009 edition of "The Milwaukee Journal Sentinel.